Recording, Computers & Apps
MIDI Recording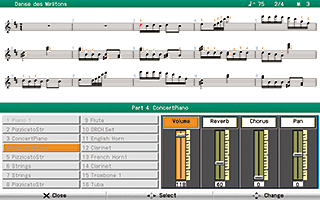 MIDI recording features allow you to record and save your performances on the piano, and also support multi-track playback. If you're practicing one of the built-in pieces with accompaniment, you can mute either the left- or right-hand track and practice one hand at a time. MIDI recording also supports performances using one hand or both hands at the same time. You can transfer recorded pieces to optional USB flash memory and use them in a variety of ways in your lessons and practice.
Audio Recording
On many Roland piano models, you can record your performances as audio data and save them onto USB flash memory (sold separately). Once captured, your performances can be copied to a computer for making audio CDs, sharing with friends, or uploading to the Internet. By recording your performances in lesson and/or practice sessions as audio data, you'll have a great record of your piano progress. Onboard audio playback features let you use songs and lesson data for daily practice.
Software and Computer Connectivity (USB/MIDI)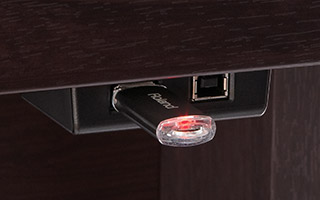 While most Roland pianos have built-in tools for learning and making music, you can expand your possibilities even further through your PC. They can be easily connected to your Windows or Mac computer via the built-in USB or MIDI (Musical Instrument Digital Interface) ports, opening up a universe of music education, composition, and recording software to explore. In many Roland piano models, you can also connect a standard USB memory stick (the same one you already use on your computer) to save your recordings or load in additional music.
Wi-Fi and Apps
A growing range of Roland pianos support Roland Wireless Connect, which gives you the ability to connect to your Apple iOS devices via an inexpensive Wi-Fi USB adapter (sold separately). The free Piano Partner app for iPad provides a fresh, interactive way to learn and play a piano. It contains three applications: Flash Card, Content Browser, and DigiScore Lite. These applications inspire and help you learn more about music and playing the piano. Air Performer and Air Recorder allow you to send music from your iOS library wirelessly into your Roland piano for play-a-long and recording respectively. You can also connect your iOS device and piano with a USB cable via Apple iPad Camera Connection Kit.