Practice, Rehearsal & Education
Volume Control and Silent Practice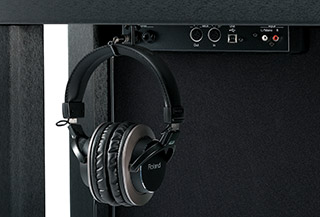 A primary advantage of Roland pianos is that they can be played anytime you want without disturbing others. They feature flexible volume adjustment to suit the room you're playing in, plus the ability to mute the sound entirely and monitor with headphones for private practice day or night. The two separate headphone jacks in many models even allow two people to play at once, such as a teacher and student or a child and parent. A headphone hook is also included for easy and discrete storage. You can use your existing headphones, earbuds, or purchase Roland headphones made specifically for our pianos.
Twin Piano Mode
This unique and useful feature found in select models splits the keyboard into two identical key ranges, allowing two performers or a student and teacher to play side by side in the same register. Duet play is very useful for learning basic or advanced piano phrases, and is often used by teachers for accompanying students during routine exercises. With models that support the connection of two separate sets of headphones, players on the left and right sides can listen and play together in Pair mode, or completely independently using Individual mode. The latter mode is a great way for two siblings who are learning different pieces to practice together on the same Roland piano.
Education and DigiScore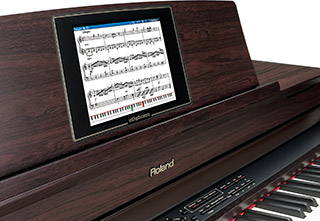 Included in Roland's i-series models is the unique DigiScore feature, which displays digital sheet music on a large, built-in LCD. You can sharpen your skills with the onboard Visual Lessons and Finger Training exercises, and play along as the bouncing ball moves rhythmically with the music to improve your sense of time in a natural way.
Enjoy DigiScore in high resolution.
In the years since DigiScore was first introduced, the display resolution has been greatly enhanced, and it now offers the ability to show 32nd-notes and up to 48 measures of music at one time. In addition, the new Auto Sync feature ensures that the onscreen notation perfectly follows your performance regardless of your tempo, with the digital pages turned in sync as well. Onboard exercises make sharpening your skills challenging and fun, as do numerous extras such as the graphical metronome, onscreen keyboard, fingering number display, and many others.
Notation-based programs and exercises.
A wide variety of interactive practice features offer solid support for developing piano skills. The Finger Training course displays the "finger power" in both hands on screen while playing the built-in Hanon exercises, and the Visual Lesson application identifies areas in the digital sheet music that you need to work on. These and other features provide powerful tools to improve your playing, no matter whether you're a beginner just starting out or an advanced pianist who has been playing for years.
Have fun learning with skill-building games.
Students and children will enjoy the friendly, interactive DigiScore games, which provide a fresh, innovative way to learn at their own pace. For example, the DoReMi Course is a no-pressure review on music reading and fingering techniques, while the Scroll Game lets students play along with a graphical piano roll on the display. Also included is the new Medal Collection application, which awards gold, silver, or bronze medals based on accuracy while playing along with the built-in songs. Challenging and entertaining, the games are great fun for children and adults alike.
Built-in Metronome
The convenient built-in metronome on Roland pianos is used for building the most basic of music skills: timing. The metronome speed can be easily adjusted as needed, and is a must for developing a sense of timing and rhythm.
Center Cancel, Tempo Change, and Transpose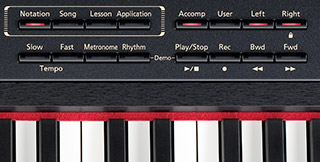 Roland pianos allow you to play along with your favorite songs through the piano's speaker system, either via optional USB flash memory or by connecting an external digital music player to the input jacks. In addition, flexible control options for the audio data (available in some models) enhance the flexibility and enjoyment of piano performance or lessons. The Center Cancel function allows you to minimize the main melody of an audio song, while Tempo Change enables you to slow the tempo of a song without changing the pitch. You can also transpose a song without changing its tempo. These functions are very useful for learning how to play challenging song passages, playing your own melody, or even playing in an easier key.
On models that support playback from USB flash memory, any of your own personal audio data (from CDs, mp3, etc.) can be saved as WAV files on your computer and then downloaded onto the USB memory to use with your Roland piano.