The Feel
Ivory Feel Keyboard Action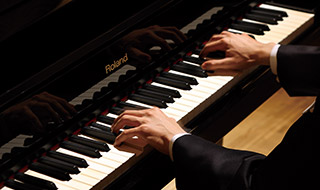 The perfect compliment to the amazing SuperNATURAL Piano engine is Roland's premium Ivory Feel progressive hammer-action (PHA) keyboard, which gives players the true ultra-responsive touch of a classic acoustic grand. With its fast response to key repetition and incredible sensitivity, this keyboard faithfully translates the subtle tonal differences of different playing styles and the force at which the keys are played. An escapement mechanism is even available in some models to replicate the characteristic "click" feel of a grand piano keyboard. Additionally, Roland's Ivory Feel keys are finished with a unique material that offers the natural texture, tactile sensation, and moisture-absorbing properties of real ivory and ebony.
Authentic grand piano touch with hammer movement.
Developed by Roland, these unique keyboards replicate the touch of a grand piano not by using springs, but with actual hammer movement like that in a grand piano. This enables a broad range of expression from pianissimo to fortissimo, and also gives players the same touch as a traditional grand, where the lower notes have a heavy feel and the higher notes have a light feel.
Fast key repetition and maximum expressiveness.
Thanks to its advanced sensor technology, the PHA keyboard delivers fast key repetition and maximum sensitivity to faithfully translate into sound the subtle changes in tone from different playing styles and dynamic force. These are state-of-the-art piano keyboards that respond to the demands of the most advanced players and top piano educators.
The natural texture and tactile sensation of real ivory and ebony.
The PHA keyboards feature the Ivory Feel keyboard, which has become highly acclaimed among users because its feel improves the more you play. Made with a specially developed material with moisture-absorbing properties, the keys replicate the appearance, texture, and playing feel of the white ivory keys and black ebony keys used in the most expensive grand pianos.
Simulated escapement mechanism.
When you press a key down slowly on a grand piano, you'll feel the resistance grow gradually and then become lighter at the end of the stroke. This transition produces a unique clicking sensation called "escapement."Replicated in some topline Roland piano models, this feature appeals to serious players that demand the most authentic keyboard touch and expressiveness.
Progressive Damper Action Pedal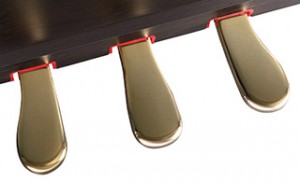 Some Roland Pianos are equipped with a Progressive Damper Action Pedal, which has light resistance when you first touch the pedal and more resistance as you depress the pedal further, just like on an acoustic piano. This makes it easy for the performer to know when the pedal begins to take effect, and also allows for half-pedal techniques, which provide subtle control of overtones and resonance. When half-pedal techniques are used, the sound immediately decays to a certain volume after key release, and is then sustained with rich resonance just as when the pedal is fully pressed. This advanced feature accurately conveys the techniques of the most demanding pianists, and brass pedals enhance the premium feel.